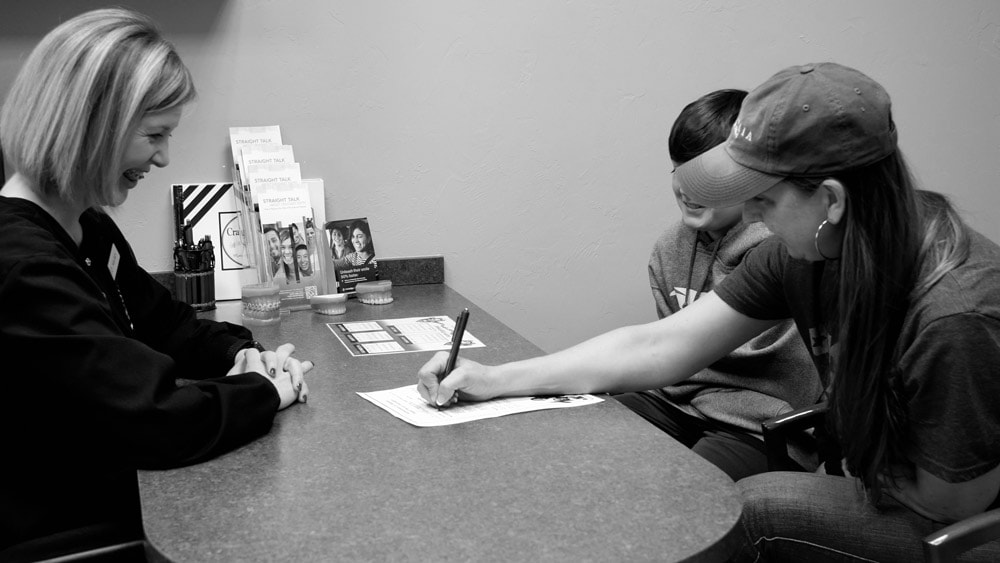 At Craig and Streight Orthodontics, we totally understand that going to the orthodontist isn't exactly an experience many people are looking forward to. Sometimes, this is because they're unfamiliar with the process and aren't sure what to expect. Other times they've had a negative experience in the past and assume they're about to have another one.
Regardless, we want nothing more than to put every patient's mind at ease, and the lengths we're willing to go to in order to accomplish exactly that are immediately obvious the first time you walk through the door.
One of the most important things for both patients and their parents to know is that all first visits at Craig and Streight Orthodontics are complimentary – no matter what. This is because the first visit is actually one of the more important ones you'll have. Not only does this give us an opportunity to get to know the patient and to learn about their unique situation in as much detail as possible, but it's also the biggest chance we have to put their mind at ease and to help them get excited about the remainder of the treatment process.
As stated, this first visit is when patients and doctors will get to know one another – and that is very much a two-way street. Dr. Craig and Dr. Streight regularly say that there are patients that brighten their day as soon as they walk through the door, as they immediately start telling them about all of the exciting things happening in their lives. Patients have even said that they want to be orthodontics later in life because of Dr. Craig and Dr. Streight – further proof that the real service they offer is an exceptional experience that is second to none.
After getting to know one another, patients will then go through a comprehensive exam that includes 3D scans, photographs, and more. This will give the doctors all of the actionable information they need to recommend the best course of treatment in the future. It's important to keep in mind that every patient is unique unto themselves, so there really is no "one size fits all" approach to proper orthodontic care. You can't just throw a set of traditional metal braces at a problem and hope it works – sometimes you need to think outside the box and use all of the tools at your disposal.
At this point, Dr. Craig and Dr. Streight will have the opportunity to further discuss a patient's specific concerns and all the things they'd like to accomplish during treatment. They'll take the time to truly understand what type of results a patient expects and what they need to do in order to make that happen.
The discussion will then turn to the treatment options themselves – arguably the most important part of the first visit. Depending on exactly what issues a patient is facing and what they'd like to accomplish, there may actually be a variety of different treatment options available to them. Some patients will be fine with traditional metal braces, for example, while others may prefer the discreet nature of clear plastic aligners or similar types of solutions. Dr. Craig and Dr. Streight will make sure that each patient (and their parents) understand not only the treatment options themselves and how they work but the unique benefits and potential considerations that each brings with it. This discussion will last for however long it needs to, and at the very least until the doctors are confident that they have done whatever it takes to put the patient's mind at ease.
Finally, Dr. Craig and Dr. Streight will be able to discuss not only the potential timeline for treatment but all financial considerations as well. In terms of payment, the team at Craig and Streight Orthodontics believes that absolutely everyone should be able to enjoy that perfect smile they've always seen for themselves, regardless of what their financial situation happens to be. That's why we offer a wide range of flexible payment options that people can easily take advantage of.
In terms of timeline, some types of issues take a longer time to correct than others, requiring longer treatment times. But don't worry – by the end of this first visit, you'll know exactly what to expect so that there are no surprises at any point moving forward.
Above all else, Craig and Streight Orthodontics has a commitment to every one of our patients to offer them a level of care, commitment, and attention to detail that they simply won't be able to find anywhere else. This is immediately obvious from your first visit, and we promise it will be a part of everyone after it, too.
So if all of this sounds like exactly what you've been looking for, please contact Craig and Streight Orthodontics to schedule your free consult today.