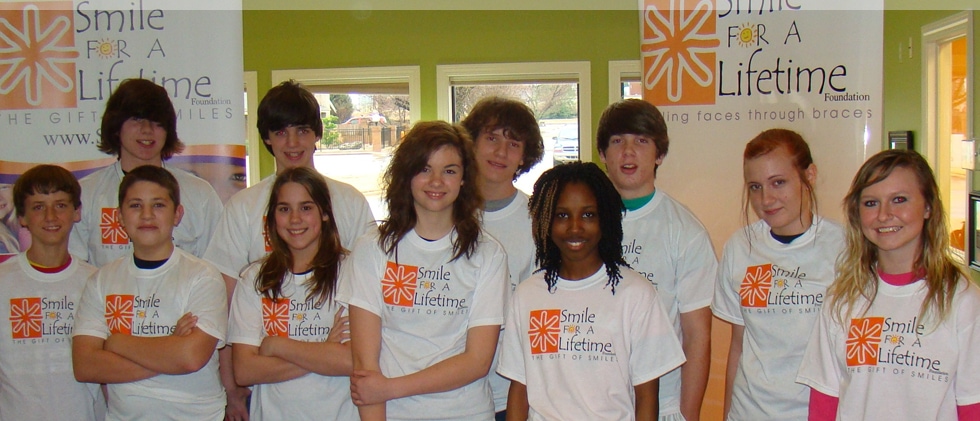 In the spirit of Thanksgiving, our staff at Craig & Streight Orthodontics thanks each of our patients and their families for bringing joy to us each day. It is because of you that we are able to do what we love: create beautiful smiles that last a lifetime.
Over the past year, we have seen more and more patient success stories. As people of all ages come through our doors seeking orthodontic solutions, just as many are walking out of our office with the smile they have always dreamed of having. It is our honor and privilege to provide excellent care to patients throughout the Oklahoma City area every day.
For many kids and teens, though, the idea of a great smile is a luxury that cannot be attained. Not only that, their smiles suffer from lack of proper care, resulting in disease, deterioration, and dental pain.
To address this problem and support overall oral health, Craig & Streight is a proud partner of the Smile for a Lifetime Foundation.
What Is Smile For A Lifetime?
Smile for a Lifetime is a non-profit organization that began in 2008, with the purpose of providing orthodontic and dental care to patients in need. With chapters located across the United States and Canada, Smile for a Lifetime is able to help hundreds of patients each year receive the care they need.
Along with chapters across North America, Smile for a Lifetime also has participating orthodontists who facilitate treatment, offering the services and moral support patients need through the process.
Craig & Streight is proud to be one of these partners, working with the foundation to serve patients in need. Since our community has been so gracious to us, we continue to look for ways to give back and use our skills to help those who need it most.
Who Can Participate In Smile For A Lifetime?
Smile for a Lifetime focuses on awarding free oral healthcare to patients between the ages of 11-18. The foundation strives to bring orthodontic care to those in underserved communities, who have especially difficult circumstances or special situations.
Because the foundation truly seeks to award those who need care most, the application process has a set list of rules and requirements. The process is also quite competitive, and recipients are determined by a local board of directors.
The application packet includes:
A questionnaire
A scholarship application
Guidelines
Dentist referral
Letters of reference
Pictures
The applicant must be a resident of an area that the foundation serves (which Craig & Streight is part of); once all items are assembled, they can then be mailed in or submitted in person to our offices. Click here to read the full application process and to download all the forms.
Why Support Smile For A Lifetime?
If you or a member of your family has received orthodontic care, you know how transformative a straight smile can be.
Before receiving braces, many of our patients suffer from various pains that must be corrected. One of the most significant issues that can come from a problematic smile is not even a physical pain at all; it is an emotional one.
Studies show that a straight smile is strongly correlated to higher self esteem and great confidence. Not only that, the perception of a straight smile goes a long way. According to a study funded by the founders of Invisalign, people who have a straight smile are considered by 58% of people to be more successful than others, and are 45% more likely to be hired for a job.
These numbers speak not only to the overall well-being a straight smile can give a person, but also to the greater level of success they can achieve in their lifetime. Those who are uncomfortable with their smile have a greater likelihood of being more reserved and less likely to be their true self.
With the help of a Smile for a Lifetime, many kids are given the opportunity to become more confident and pursue goals that they otherwise might not.
How To Get Involved With Smile For A Lifetime
Since many of our patients know the benefits of a healthy, happy smile, we have many people show interest in getting involved with and spreading the word about Smile for a Lifetime.
If you know of someone who could qualify for and benefit from the foundation's work, you can access our application information here to help them apply and learn more. Or, to give directly to the foundation, please visit their website and make a donation today!
Thank You From Your Oklahoma Orthodontists!
This holiday season, the team at Craig & Streight gives a heartfelt thanks to all of our patients. We know what an important investment it is to trust us with your smile, and we work hard everyday to make your investment in us (and yourself!) worthwhile.
If you are looking for an orthodontist in the Oklahoma City area, we hope you will consider us. Give us a call today to get started. We look forward to meeting you, learning more about you, and providing a treatment plan that will fit your budget and lifestyle.